Beef Tenderloin With Morel Sauce
Ingredients
2

oz.

Mushroom House Dried Morels

1 ⅓

Cup

Boiling Water

3 to 3.5

lb.

Beef Tenderloin

Trimmed and tied

3

tbs.

Unsalted Butter

1

tbs.

Vegetable Oil

2

Large Shallots

Minced

1 ¼

Cup

Heavy Cream

Salt and Fresh Ground Pepper to Taste
Instructions
Preheat the oven to 375°. In a large heatproof bowl, soakthe morels in the boiling water until softened, 20 minutes. Reserving thesoaking liquid, rub the morels under running water to remove any grit; coarselychop any large ones.

Season the roast with salt and pepper. In a large ovenproofskillet, melt 2 tablespoons of the butter in the oil. Add the roast and brownover moderately high heat on all sides, about 4 minutes per side. Place searedroast in oven and cook for about 35 minutes, or until an instant-readthermometer inserted in the center of the roast registers 125° for rare.Transfer the roast to a carving board and cover loosely with foil. Let rest for10 minutes.

Discard any fat from the skillet and set the pan over highheat. Slowly pour in the mushroom liquid, stopping when you reach the grit.Boil the liquid, scraping up the browned bits on the bottom of the skillet,until it reduces to 1/2 cup, about 3 minutes. Strain the liquid through a finesieve set over a bowl.

Wipe out the skillet and add the remaining 1 tablespoon ofbutter. Add the shallots and cook over moderate heat until softened, about 4minutes. Stir in the morels. Add the heavy cream and the reserved mushroomliquid and simmer over moderate heat until the sauce is thickened, about 7minutes. Season with salt and pepper. Slice the roast 1/2 inch thick and servewith the sauce.
Morel Cream Sauce
This creamy sauce adds and elegant touch to any roast or beef dish.
Ingredients
2

oz.

Mushroom House Brand Dried Morels

3

tbsp.

Unsalted Butter

1/4

cup

Finely Chopped Shallots

1

cup

Dry Marsala Wine

2

cups

Heavy Cream

1

tbsp.

Fresh Squeezed Lemon Juice

1

tbsp.

Fresh Chives, Thinly Sliced

1

tbsp.

Fresh Tarragon Minced

Fresh Cracked Pepper To Taste

Kosher Salt To Taste
Instructions
To rehydrate mushrooms, boil about 2 cups of water and remove from heat. Place morels in hot water, cover and let steep for 30 minutes or until mushrooms are soft.

Strain morels over another saucepan with a mesh strainer to capture the soaking liquid. If you do not have a fine mesh strainer, place cheesecloth inside your regular strainer.

Place morels on a paper towel and gently press down on them to remove any excess water.

Place saucepan with strained soaking liquid over medium-high heat and reduce by half.

Melt butter in another sauce pan over medium-high heat

Add shallots, stirring often, cook for 10 minutes until soft

Add morels, reduce heat to low and stir often for about 2 minutes

Increase heat to medium, then add Marsala and cook until liquid almost evaporates, about 10 minutes.

Add reduced soaking liquid, cream and 1/2 tsp. of salt

Simmer for about 10 minutes or until sauce thickens.

Add lemon juice, herbs and season with salt and pepper to taste.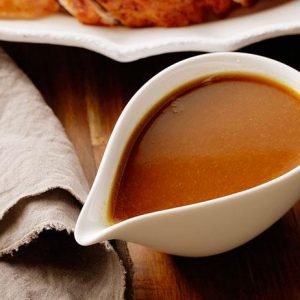 Porcini and Marsala Wine Turkey Gravy
Ingredients
2

tsp.

Vegetable Oil

1

Turkey Neck

1

Onion, large dice

2

Celery stalks large dice

2

Carrots large dice

1/3

cup

Marsala Wine

2

quarts

Water

1

Bay leaf

1/2

ounce

Dried Porcini

1/4

cup

Butter

3

tbsp.

Flour

2

tbsp.

Heavy cream

Salt and pepper to taste

Pan drippings from roasted turkey, separated

Turkey Giblets

Optional
Instructions
Heat vegetable oil in a large stockpot over medium-high heat. Brown turkey neck, about 6 minutes per side. Add the onion, celery, and carrots; cook until the vegetables begin to soften and brown, 5 to 7 minutes. Pour in the Marsala wine, and scrape and dissolve any browned meat and vegetable bits off the bottom of the pan. Raise heat to high; cook until liquid is reduced by half.

Pour roast turkey drippings into fat separator and let stand until fat separates from turkey drippings

Stir in 2 quarts of cold water, bay leaf, and 1/4 ounce dried porcini mushrooms and optional giblets. Add separated turkey drippings, bring to a simmer and turn heat to low. As stock simmers, skim and discard any foam that comes to the top. Cover partially, and simmer on very low heat for about 1.5 hrs. Strain out solids, and set broth aside to cool.



In a bowl, cover remaining 1/4 ounce dried porcini with 1 cup warm water; allow to rehydrate for 20 minutes. Remove mushrooms from water, and chop fine.

Heat 1/4 cup butter in a large saucepan over medium heat, and brown mushrooms, about 10 minutes. Stir flour into mushrooms and butter, and cook over medium heat, stirring constantly for 3 minutes to make roux. Whisk in broth, about 1/2 cup at a time, and raise heat to medium high; bring gravy to a boil.

Reduce heat to a simmer, and cook gravy until reduced and thickened, about 30 minutes. Stir often. Just before serving, stir in cream, and season with salt and black pepper.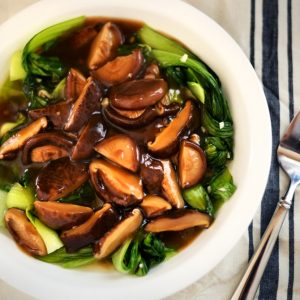 Baby Asian Vegetables with Shiitake Mushrooms
Ingredients
2

Tbsp.

Peanut Oil

2

Garlic Cloves, Crushed

2

tsp.

Ginger, Grated

3/4

Cup

Shiitake's Sliced

2

Bunches

Baby Bok Choy, Trimmed and Separated

15

oz.

Fresh Baby Corn or 1 425 gr. Can

2

Tbsp.

Oyster Sauce

1

Tbsp.

Soy Sauce

2

Tbsp.

Water
Instructions
Heat oil in a large frying pan or wok over medium-high heat. Add garlic and ginger. Stir-fry for 30 seconds or until aromatic.

Add the mushroom and stir-fry for 2 minutes. Add the bok choy, corn, oyster sauce and soy sauce. Toss to combine.

Add the water and reduce heat to low. Cover and cook for 2 minutes or until the vegetables are just tender. Serve.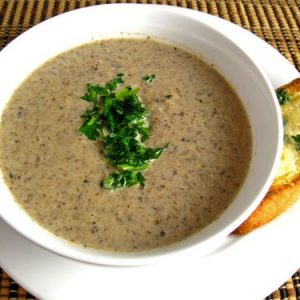 Maitake Mushroom Soup
Ingredients
4

oz.

Fresh Maitake Mushrooms Chopped

1/2

oz.

Dried Maitake Mushrooms soaked in 1 cup of hot water

1/2

lb.

Assorted fresh mushrooms with at least 6 oz. of shiitake

1/2

oz.

Dried Shiitake Soaked in 1 cup of hot water

3

Tbsps.

Olive oil

2

Large

Shallots chopped

1

Small

Leek chopped

1

Small

Vidalia onion chopped

1

Stalk

Celery chopped

1

Medium

Carrot chopped

1

Medium

Potato peeled and chopped

4

Cups

Vegetable stock (can substitute with water or chicken stock)

2

Tbsps.

Tamari

1

Bay Leaf

2

tsp.

Chopped fresh thyme

1

tsp.

Chopped fresh rosemary

Sea Salt to taste

1

Tbsp.

Cognac (optional)
Instructions
Drain the maitake and shiitake mushrooms and reserve the liquid. Chop all the mushrooms. Heat oil over medium flame in a soup pot.

Add mushrooms to pot along with shallot, leek, onion, celery, carrot, and potato. Increase heat to medium-high, and cook vegetables, stirring often, until they begin to soften, about ten minutes.

Add soaking liquid from mushrooms, stock, tamari and bay leaf. Bring to a boil, reduce heat, and simmer 30 minutes.

Add thyme and rosemary, and puree with a vertical hand blender until smooth.

Season to taste and simmer an additional 5 minutes.

Serve in bowls and drizzle optional cognac on top to give it a "French" touch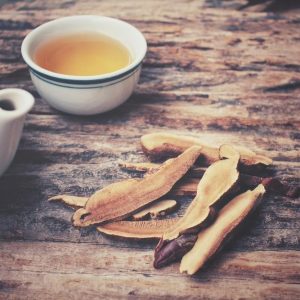 Reishi Tea
Ingredients
5

grams

Fresh or Dried Sliced or Broken Reishi Mushrooms

5

cups

Water

2 to 3

tbsp.

Honey (optional)
Instructions
Pour the water into a pot or any other container and bring it to a boil. Make sure you don't use an aluminum container as the process requires heating for long, and the metal is neither a perfect absorber nor a reflector of heat.

Add Reishi and let it boil for another half an hour. If you prefer a strong flavor, you may let it boil for longer, but keep adding more water as it evaporates.

Turn off the heat and let the mushrooms steep in it for another 30 minutes, even longer if possible. Reishi mushroom is woody, therefore it needs time to steep.

Now you may add optional honey to taste and stir it well.

Strain the mixture into a jar using a strainer or a cheesecloth.

Drink hot, or store in refrigerator in a sealed jar to enjoy cold.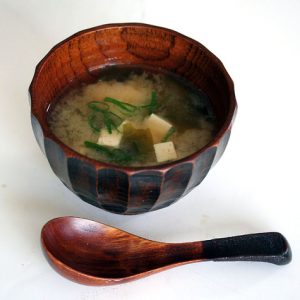 Reishi Miso "Immunity" Soup
Soup can be made ahead of time. When ready, simmer soup and add green onion and tofu before serving.
Ingredients
8

Cups

Water

3

Slices

Reishi Mushrooms

2

Cloves

Garlic

2

Cups

Mixed Vegetables (carrots, celery, onions, and/or any root vegetable you have handy)

2

Green Onion, sliced diagonally into 1/2 pieces and separate the onion layers

3

Tbsp.

Miso Paste

6

oz.

Firm Tofu, cubed

1-2

tsp.

Dashi granules. More dashi can be added if you want a stronger taste
Instructions
Add water, vegetable mix, reishi and garlic to pot and simmer for 1 hr.

Strain broth into another pot and return to medium-high heat

Add dashi granules to taste and bring to a boil

Reduce to medium low heat and whisk in the miso paste

Add the onion and tofu cubes and simmer for about 2 minutes before serving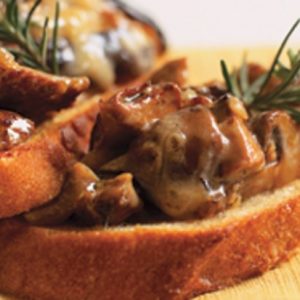 Wild Mushroom Crostini
Ingredients
36 1/3-

inch-thick baguette slices

2

tablespoons

olive oil

1/3

cup

chopped shallots

2 1/4

cups

chopped oyster mushrooms

2 1/4

cups

chopped stemmed shiitake mushrooms

about 6 ounces

1 1/4

cups

chopped chanterelle mushrooms

about 4 ounces

1

garlic clove

minced

1/4

cup

whipping cream

1

teaspoon

minced fresh rosemary

1/2

teaspoon

grated lemon peel

1

cup

grated Fontina cheese

1/2

cup

freshly grated Parmesan cheese

about 1 3/4 ounces
Instructions
Preheat oven to 375°F. Arrange baguette slices on rimmed baking sheet. Toast in oven until golden, about 9 minutes. Cool. (Can be prepared 2 days ahead. Store in airtight container at room temperature.)

Heat oil in large skillet over medium-high heat. Add shallots; sauté 1 minute. Add all mushrooms; sauté until beginning to brown, about 6 minutes. Stir in garlic; sauté 1 minute. Remove from heat. Stir in cream, rosemary, and lemon peel. Season with salt and pepper. Cool. Mix in both cheeses. (Can be made 2 days ahead. Cover and refrigerate.)

Preheat broiler. Top each toast with about 1 tablespoon mushroom topping. Place on 2 rimmed baking sheets. Working in batches, broil until cheese is melted and begins to brown, watching closely to prevent burning, about 3 minutes. Transfer to serving platter. Serve warm.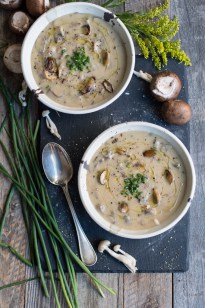 Ultimate Cream of Mushroom Soup
Ingredients
1½

pounds

mushrooms

combination of shiitake, oyster, crimini and white mushrooms

6

tablespoons

butter

6

tablespoons

flour

3

tablespoons

olive oil

½

C

chopped chives

1

quart

beef stock

1

C

heavy cream

1

tsp

cracked black pepper

1

tsp

salt

2

tablespoons

truffle oil
Instructions
Preheat Oven to 400 degrees and roughly chop mushrooms and place in oven-safe container. Add olive oil and ¼ C chopped chives.

Place mixture in oven and roast for 20 minutes.

Meanwhile, in a large stock pot, melt the butter, add the flour and mix together. Cook over medium heat for 5 minutes.

Add cracked pepper, salt, and mushroom mixture from the oven.

Mix together, slowly adding beef stock and cook for 10 minutes over medium heat until thickened.

Add heavy cream and stir until combined. Simmer for 15 minutes.

Serve in bowl with garnish of chopped chives and a drizzle of truffle oil.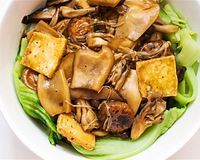 Wild Mushrooms With Tofu
Ingredients
2

ounces

dried shiitake mushrooms

about 10 mushrooms

12

ounces

firm tofu

sliced 1/4 inch thick

1/4

cup

plus 5 teaspoons cornstarch

divided

Kosher salt and freshly ground black pepper

3

tablespoons

plus 2 teaspoons canola

vegetable, or peanut oil, divided

1-

pound

Chinese mustard greens

gai toy; see note, leaves separated, smaller ones left whole and larger ounces halved, and stalks cut into thick slices

3/4

cup

vegetable stock

2

tablespoons

soy sauce

2

teaspoons

Shaoxing wine

or dry sherry

2

teaspoons

toasted sesame oil

1 1/4

pounds

mixed fresh mushrooms

such as portobello, maitake, king oyster, shimeji, enoki, and cremini, cut into thick slices, torn into large pieces, or separated into strands
Instructions
Rinse dried shiitakes under cold running water to remove any grit. Place shiitakes in a heatproof bowl and pour 1 1/2 cups hot water on top. Soak the shiitakes until fully rehydrated, at least 2 hours or up to overnight. Lift mushrooms from water, squeezing any excess water back into the bowl. Line a fine mesh strainer with paper towels or cheesecloth and strain mushroom soaking liquid through it into a clean bowl and reserve. Discard shiitake mushroom stems.

Place tofu in a clean heatproof bowl and carefully pour enough boiling water on top to cover. Let stand for 30 seconds, then drain and transfer tofu to a paper towel-lined plate. Press gently on tofu with paper towels to dry thoroughly.

Mix together 1/4 cup of cornstarch and 1/4 tsp of salt on a plate. Dredge tofu slices in cornstarch to evenly coat, tapping off excess and transferring them back to a clean, dry plate.

Heat 3 tablespoons oil in a non-stick pan over medium-high heat until shimmering. Working in batches if necessary to avoid crowding the pan, cook tofu slices until crisp and golden on both sides, about 7 minutes. Transfer cooked tofu to a paper towel-lined plate.

Bring a pot of salted water to a boil. Add Chinese mustard greens in and cook until just tender, about 5 minutes. Drain and place greens in a large deep serving plate.

In a bowl, combine vegetable stock, 3/4 cup of the shiitake mushroom soaking liquid, soy sauce, Shaoxing wine, toasted sesame oil, and remaining 5 teaspoons cornstarch. Mix well and set aside.

In a large pan or wok, heat up remaining 2 teaspoons oil. Add shiitake mushroom caps along with all the fresh mushrooms except the enoki, if using. Season with salt and pepper. Cook, stirring, until mushrooms release their water and then it evaporates.

Add vegetable stock mixture and stir well. When the sauce begins to bubble and thicken, gently mix in tofu slices. Lower heat to a gentle simmer, then cook for 5 minutes. Add the enoki mushrooms, if using, and simmer until the mushrooms are tender and coated in a glossy sauce, about 5 minutes longer. Scrape mushrooms and tofu, along with any sauce, on top of mustard greens and serve with white rice.
Vegan Porcini Mushroom Gravy
A silky Vegan Porcini gravy that even meat lovers will crave!
Ingredients
1/2

Cup

Dried Porcini Mushrooms

2

Tbsp.

Olive Oil

1

Medium

Red Onion

Finely Diced

1

Shallot

Finely Diced

2

Cloves

Garlic

Crushed and minced

5

Sprigs

Fresh Thyme

3

Sprigs

Fresh Rosemary

6

oz.

Portobello Mushrooms

Sliced

1 3/4

Cups

No-Chicken Broth

or Vegetable Broth

2

Tbsp.

Flour

Mix with 1/4 cup of water to make thick slurry

1

Tbsp.

Sea Salt

Fresh Ground Pepper to Taste
Instructions
Put 1/2 cup of dried porcini in a small bowl and cover with 2 cups of hot water and let sit for 30 minutes.

Take 2 tbsps. of flour and 1/4 cup of water and mix to a smooth slurry and set aside.

Remove the Porcini Mushrooms from water with hands feeling the pieces to ensure there is no grit. Chop Porcini Mushrooms to a small medium size and set aside. Strain liquid into a small bowl with a fine mesh strainer or coffee filter and set aside.

Heat the 2 tbsps. olive oil (or 3 tbsps. water or vegetable broth) in a medium skillet over medium-high heat. When the oil is hot, add the onions and mushrooms and cook for 7 minutes ,or until they begin to brown. Add the shallots and cook for two minutes. Add the garlic and cook for one to two minutes, or until it just begins to brown.

Add the strained Porcini liquid and the 1 3/4 cups of no-chicken broth, rosemary and thyme and bring to a boil. Reduce heat to simmer and cook for 15 minutes. It's normal for the liquid to reduce during this time, but you don't want it to evaporate too much, so make sure that the heat is low.

Strain gravy into bowl to remove solid mixture and add gravy back to saucepan and bring to a low boil. (Do not throw strained solid mixture away. Remove herbs, chop them and serve as a side dish or mix with rice, pasta or quinoa)

Add chopped Porcini Mushrooms and whisk in the flour mixture. Continue whisking until the gravy thickens. Add the salt and pepper to taste and stir for another minute.